July 20, 2022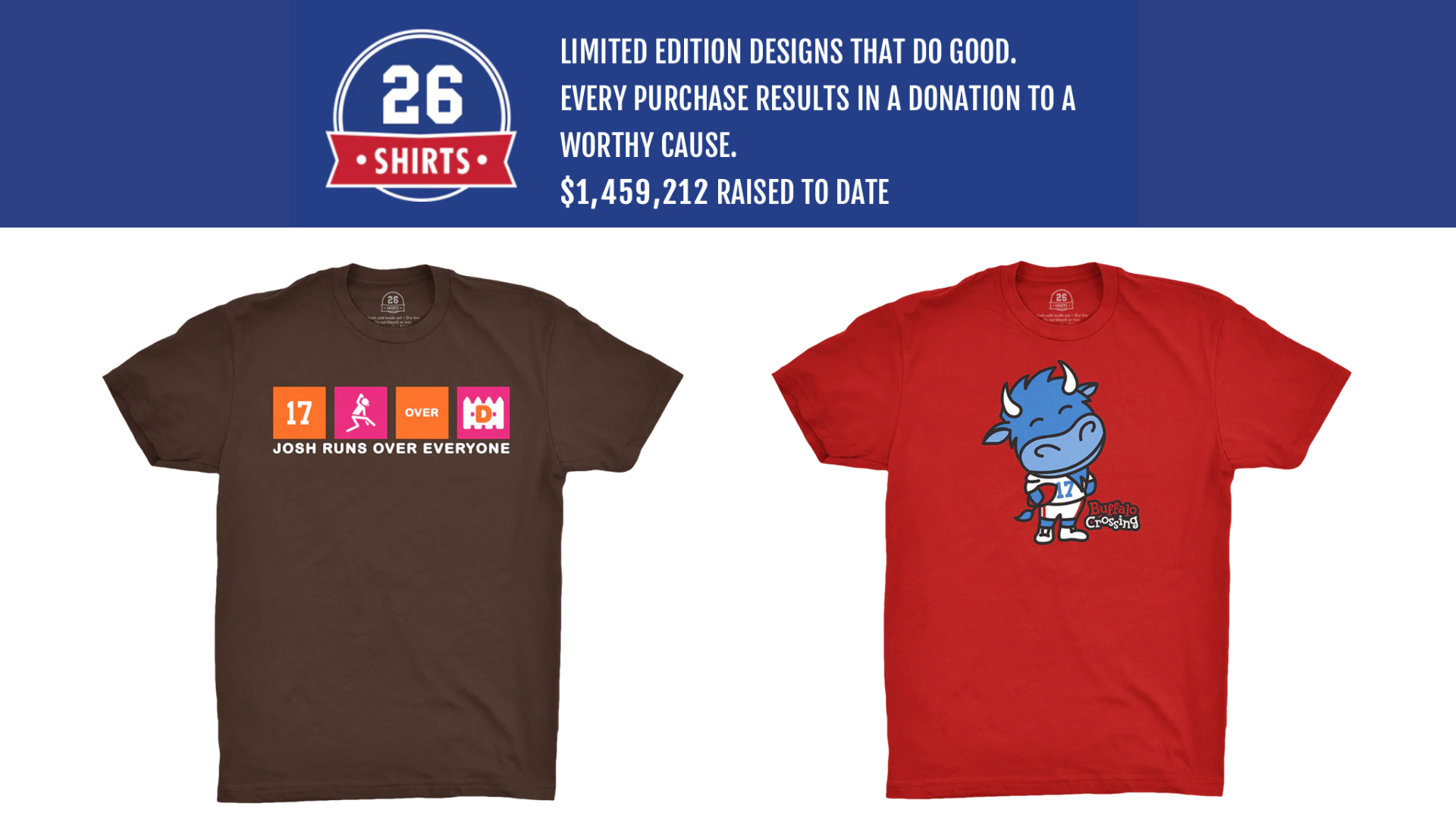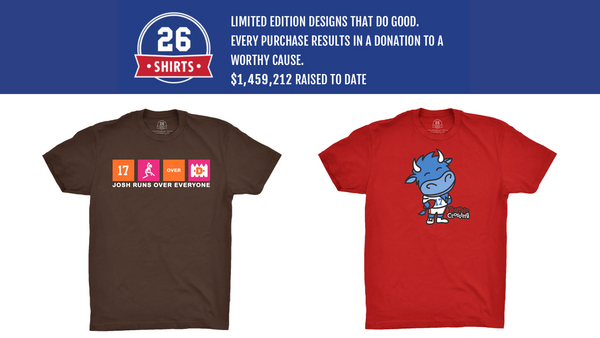 Throughout our cancer journey with Bella, our community far and wide has been a huge support.
Many of you know of my love and fandom for my local sports teams (Buffalo Bills and Buffalo Sabres) and my Greater Buffalo community. Buffalonians take care of each other, and this year we continue to bond together.
My friends 26 Shirts (Del Reid and co.) are stepping up to help us fight cancer and put an end to this terrible disease that Bella and so many others are fighting.
26 Shirts is a company based on giving back, and they make custom Buffalo-based apparel and donate a large portion of every sale to a non-profit or family or cause in need.
They have created two custom t-shirt designs ("Josh Runs Over Everyone" and "Buffalo Crossing") that can be purchased to benefit Bella and other kids like her as they fight cancer.
We are so grateful that we have excellent health care and resources to get Bella the best care, but we know not everyone is in the same situation.
As Christians, we are called to Love God and Love ALL people! Matthew 22:36-39
In living that out, we want to take this opportunity to fundraise for the Courage of Carly Fund. This fund is a Roswell Park initiative that exists to fund research and provide programs to give every brave child a fighting chance against cancer and blood disorders.
We discussed with Bella where she wanted the funds directed from this campaign, and after her own research and decision, she chose this fund because she wanted the resources to stay local and be specifically directed to kids!
Throughout this journey, I got to meet Chuck Collard. Chuck started the Courage of Carly Fund after battling cancer with his daughter, Carly. Chuck has been an enormous influence on me since we started this battle, and he has selflessly given his time, energy, and prayers to our family.
If you have the means, would you be so kind to make a purchase or two of these shirts?
$8 for every "Josh Runs Over Everyone" shirt purchase (campaign ends 7/31/22), and 8% of every "Buffalo Crossing" shirt purchase (campaign ends 7/26/22) will go directly to the Courage of Carly Fund.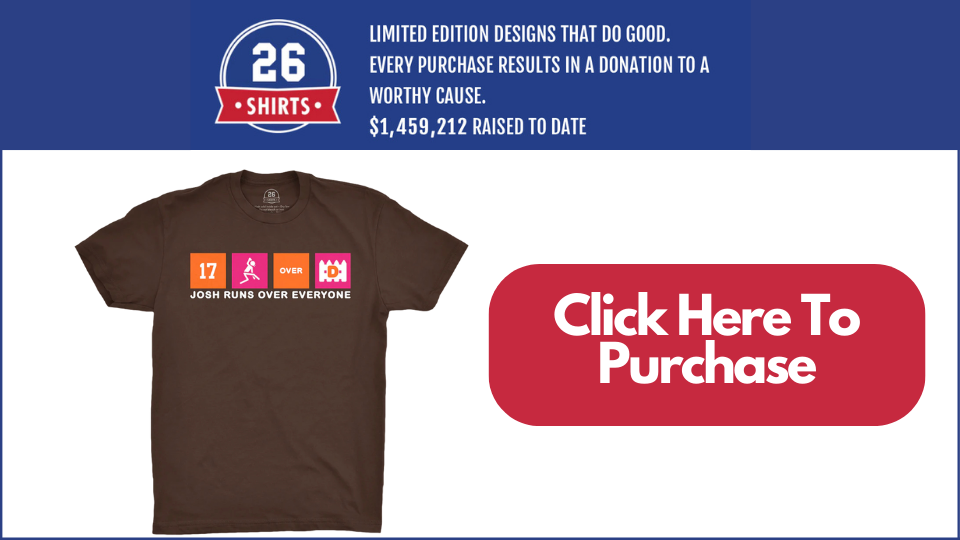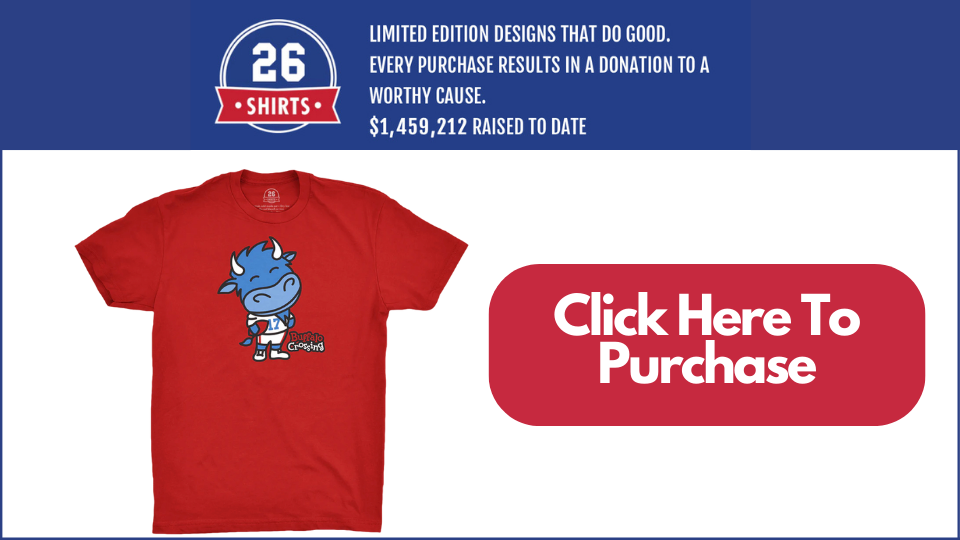 We need your help. Your prayers are so welcomed and so very needed. If you have the means, your resources are needed too!
If you would just like to give a monetary donation, you can do that too. If you are an individual or a business that would like to donate on Bella's behalf, we can set up a match campaign or a direct donation. Just DM me, and we will get it taken care of.
Please help us cure more kids with cancer!
Bella is fighting for her life.
So many kids are fighting for their lives.
Thank you for joining us in this fight.
From the bottom of our hearts, thank you ❤️🙏
Jason, Tiffany, Bella, Julianna, family, and friends